A step into the Intensive Dance Stream Journey for your 5 year old dancer.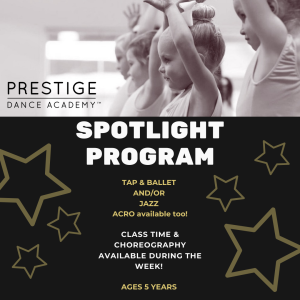 The Spotlight Program is designed for dancers 5 years old and is offered in Tap & Ballet, Spotlight Jazz, we also have Spotlight Acro class too – the Acro class does not include choreography. The Spotlight Program will have class times and choreography available during the week. Your dancer will attend back to back half hour classes (Tap & Ballet AND/OR Jazz & Acro) and stay on the same night to learn their choreography group routine.
This is a new program that bridges that gap for the 4 year old's that have already taken part in the pre-intensive, in class choreography program, or 5 year olds who are loving dance and looking to begin their intensive dance stream journey!
Send a message to ITC@prestigedance.com to inquire about the next steps and joining the program. We would love to connect!