A step into the Intensive Dance Stream Journey for your 5 year old dancer.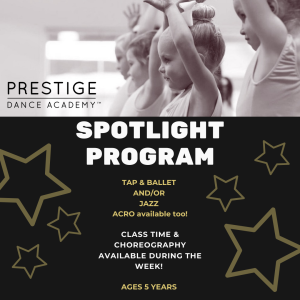 The Spotlight Program is the next step towards our Intensive Dance Program from the Prestige Petites Program. This is also a great program for 5 year olds who are loving dance and looking to begin their competitive dance journey.
Dancers in this program may begin working on dance exam specific training in class along with their competitive choreography, all while continuing to build confidence, and friendships, stay active, and have fun! The ultimate goal of this program is to provide a positive dance experience and to begin to foster a love for dancer and being on stage.
The first step in joining this program, is to reach out to our team to coordinate class selection. From there, our team will help register your dancer in the appropriate classes. Once registered, you will receive the Welcome Package by email with the calendar, dress code, and all other important information.